B S Yeddyurappa blames RSS man Santhosh for infighting in BJP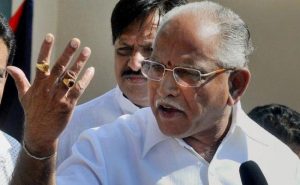 BENGALURU: Breaking his long silence, BJP state president B S Yeddyurappa held party general secretary (organization) B L Santhosh responsible for the dissidence plaguing the state unit.
"Eshwarappa was defying the senior leadership by calling for meetings but it was Santhosh who backed him and engineered the rebellion. We are bringing everything to the notice of the party's central leadership. They will take appropriate decision," said Yeddyurappa.
His statement holds significance, considering this is the first time that Yeddyurappa has launched an open attack against Santhosh, an RSS man who enjoys considerable clout with national president Amit Shah.
The state president also lashed out at Eshwarappa, asking him what had he done to strengthen the party after he became the opposition leader in the legislative council. Yeddyurappa also reminded him that he stood fourth in the last assembly poll, but was still made an MLC and the opposition leader.
Rejecting Eshwarappa's claims that Shah had not opposed Thursday's meeting, Yeddurappa said on instructions from the national general secretary in-charge Muralidhar Rao, state general secretary N Ravikumar had asked party men to refrain from attending the meeting. The party high command will figure out who is the brain behind the rebellion, Yeddyurappa added.
Undaunted by the verbal attack on Santosh and himself, Eshwarappa said, " Santhosh is in no way connected. We are here to save the party's democracy".